Testimonial from Two-Ten Communications Limited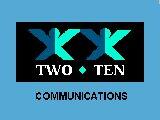 As we appear to have entered our final couple of days as colleagues, I would like to record my thanks for the commitment and professionalism and sheer hard work you have applied to all your responsibilities at Two-Ten, as well as the loyalty and support that you have shown to me personally. As Managing Director I could not have asked for any more.
If I can be of assistance to you in any way in the future, please do not hestitate to contact me. In the meantime, I wish you every success in your new position.

With best wishes
Clive Marshall
Managing Director