Consultancy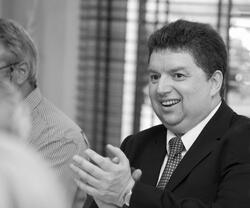 The biggest challenge facing Small and Medium Sized businesses today is the balance of Time and Resource. In the age of rapid growth, tight margins, uncertainty over interest rates, it is vital that the management of every business is able to focus on the day-to-day running of that business.
Successful businesses with great services and products to sell often fail to reach their true potential. Not enough quality time is able to be devoted to:
• Detailed Strategy • Effective Reporting
• Objective Management • Profit Analysis
• Full Budgeting/Forecasting • Time Management
• Targeting of Prospects • Client Profitability
• Financial Management • Planning
• IT Infrastructure • Process Mapping
• Cost Controlling • Staff Input/Motivation
• Targeted Investment • Employee Benefits
• Potential Acquisitions & Mergers • Cashflow
• Selection and Recruitment of Senior Management
Timing is critical.
Through the direct involvement of Management Inspirations as Management Consultants and Business Strategists, we will concentrate on objectively reviewing and analysing all opportunities to ensure profitability is maintained and increased for the medium term, while allowing the management to focus on the day-to-day business.
The late 20th and early 21st centuries have seen businesses grow often quicker than their structure can cope with, often at reduced profit margins. An independent dedicated view will allow the business to concentrate on its strength and grow on a sustainable basis.
It is often the case that there are some great ideas within the workforce but staff feel unable to come forward. As independent consultants we can listen to those views confidentially and report back findings without affecting existing relationships. This not only helps to improve business success, but also creates staff motivation and positive retention.
We can also manage the process and progress of acquisitions, mergers, disposals, management buyouts, feasibility studies, including financing and debt recovery.
Therefore for Management Inspirations, consultancy is all about providing the highest level of strategic and financial support to businesses of any size in any industry.
We can provide support in all areas including:
- New Businesses
- During The Early Years
- Looking To Raise Finance
- Business Plans
- Recruitment
- On-going Support
- Ad-hoc Support
- Business Expansion
- Sale Of Businesses
See Services for more detailed information.